CUSTOM HOME BUILDERS IN ALBANY, OR
SERVING ALBANY, EUGENE, CORVALLIS & SURROUNDING AREAS
We love Building Custom Homes
Our local, Albany-based construction company has worked with homeowners and architects throughout the Willamette Valley, and we ensure every aspect of a new build project is handled just right. Additionally, our specialists here at Top Form Contracting can provide in-house planning and design or work with your architect or designer to bring your home build to life.
Building a home from the bottom up is a huge undertaking. A lot of planning, permits, and design needs to occur at the outset, well before the first shovel begins to dig the foundation. At Top Form Contracting, we understand all of the nuances that go into new home builds and are well-equipped to help you design and build your dream home.
NEW CONSTRUCTION | ALBANY, OR
The Top Form Contracting team is always excited to help with home builds. If you are planning your dream home or want to install an addition to your existing home, we have the designers and contractors you need to get the job done. Whether you have a Pinterest board filled with ideas or have already hired an architect or designer, we can work with you and your team to bring your ideas into reality.
Your first step will be to contact our offices and schedule a free consultation with our home builders in Albany. That way, we can discuss your project, take a look at your plans, and provide you with an estimate. If you decide to work with us, we will set up a construction schedule, procure materials, and begin your new home build.
We are a local, family-owned company, and our business is built on our excellent reputation. That's why we are passionate about providing you with exactly what you ask for throughout the new construction process, keeping any changes to a minimum, and overcoming challenges rapidly to keep the project on schedule.
Let's Build Your Dream Home
No new construction project is too big or too small for our professional home builders in Albany. From window replacements to decking installations, your dream home will come to life right before your eyes.
Call to schedule a Free Estimate
NEW CONSTRUCTION & HOME BUILD FEATURES
At Top Form Contracting, we cover all areas of home building and new construction. Our contractors are highly experienced with everything from window, door, and siding installations, to decking and pergola construction.
Siding
As the leading Vertical Siding Installation and Hardie Board Lap Siding Contractor in Albany, you can count on Top Form Contracting to provide exceptional siding installations for your home build. As with any new construction project, new siding is often necessary or requested. With decades of experience, our home builders always ensure new siding installations are precise and installed based on manufacturer standards.
Hardie Board siding is a high-quality exterior siding that Top Form Contracting has installed for countless homeowners in the Willamette Valley. The right siding for your home build will increase curb appeal, help protect your home during inclement weather, and upgrade your home's exterior overall. To request more information about Hardie Board siding installations or other siding options, contact our home build contractors in Albany today at 541-926-4597.
Find out more on our Siding Installation Page.
Window & Door Installations
Window installations are a major part of any new construction or home build project. At Top Form Contracting, our home build contractors are experts when it comes to window installations of all kinds. Some of the most popular windows we install include single and double-hung, sliding, bay windows, and garden windows.
In addition to new windows, your custom home or home build will likely need a new door or two. Door installations must be done with precision to ensure that draft, dirt, and other debris do not enter your home. Our contractors provide the perfect installations every time. From the hinges to the doorknobs, and every component in between, we will guarantee that your doors complement your home build perfectly.
When you work with our new construction contractors in Albany, we will work with you to choose doors for your home build that match your style, preferences, budget, and needs. Some of the most common door types we install include solid wood doors, fiberglass doors, steel doors, sliding glass, and french doors. If you have a different kind of door in mind, give us a call. We would love to discuss your plans and see how we can help bring your vision to life.
Let's Get Your Project Started!
No home maintenance task is too big or too small for our professional team. From window replacements to drywall repairs, we can get your home fixed, fast.
Call Jenny to schedule a Free Estimate
Covered Patios/Pergolas
If you are in the process of a home build or new construction project, have you considered adding a covered patio or pergola to your plans? Our home build contractors at Top Form Contracting build gorgeous covered patios and pergolas for homeowners in Albany, Eugene, Lake Oswego, Portland, and elsewhere in the Willamette Valley. Adding an outdoor space that you can use for entertainment, leisure, and enjoyment is a great way to add value to your home.
Working with our home build contractors in Albany means you will not only have access to the best contractors in the region, but also the best materials. We only use high-quality products and brands when we work with our clients to construct their outdoor additions. Get in touch with our new construction contractors now for an estimate on your covered patio or pergola.
Find out more on our Outdoor Features Page.
Decking
Custom deck installations are our specialty here at Top Form Contracting. As an authorized TrexPro® Contractor, we are trained to install and maintain decks made with Trex products. These decks are highly durable, come in a range of colors and styles, and also require minimal maintenance. Our TrexPro® certified contractors have the skills and training necessary to install and maintain Trex decking with exceptional attention-to-detail and care.
In addition to our Trex composite decking installations, we also install traditional wood decks. Depending on your style and maintenance needs, we can help you determine whether composite decking or wood decking will suit your home best. Schedule a consultation or request an estimate from our experts at 541-926-4597.
Find out more on our Decking Page.
Connect with our Home Builders in Albany!
Your new home build is just a quick call away. Get in touch with our team at Top Form Contracting now to get one step closer to your dream home.

Call Jenny to schedule a Free Estimate
TOP FORM CONTRACTING | NEW CONSTRUCTION SERVICES
Our team at Top Form Contracting is made up of highly skilled staff members that have years of experience with home builds of all sizes. Keeping your home construction on schedule is one of our top priorities. When our skilled contractors work on new construction in Albany and elsewhere in the Willamette Valley, meeting deadlines is an important value we carry. We will work to complete your home build on time and without delay.
When we work with locals on home builds in Albany and other cities, we always recommend and use the best materials. High-quality products ensure that your new construction or home build will last for decades. From the windows, siding, and other exterior elements, to every structure in between, our contractors ensure that only the finest materials and hardware are used.
Our staff at Top Form Contracting is proud to serve homeowners all over the Willamette Valley. Since 2006, our tight-knit team has treated every customer like family. We know you invest a lot of heart and attention into planning and dreaming up a new home for your family. We promise to serve you and your household with the kind of care, consideration, and respect you deserve.
For every home build or new construction project we perform, we believe that transparency and honesty are the two principles that should be valued most. Our planners, designers, and contractors will take the time to listen to your ideas, help you come up with the best plan for your budget, and guide you through each stage of the process.
We always give honest estimates and have solutions for every budget. You can count on Top Form Contracting in Albany to provide exceptional customer service for your new construction or home build project. With our professional home build services, you can see your custom home built right before your eyes.
SCHEDULE A CONSULTATION TODAY
Top Form Contracting serves homeowners in Albany, Eugene, Corvallis, and Philomath, as well as those in the Portland metro area, including Tualatin, Lake Oswego, Oregon City, and Sherwood. If you're located in the Willamette Valley and want to hire our home builders for your new construction, contact us to request a free estimate today!
Give us a call or use our contact form to get started.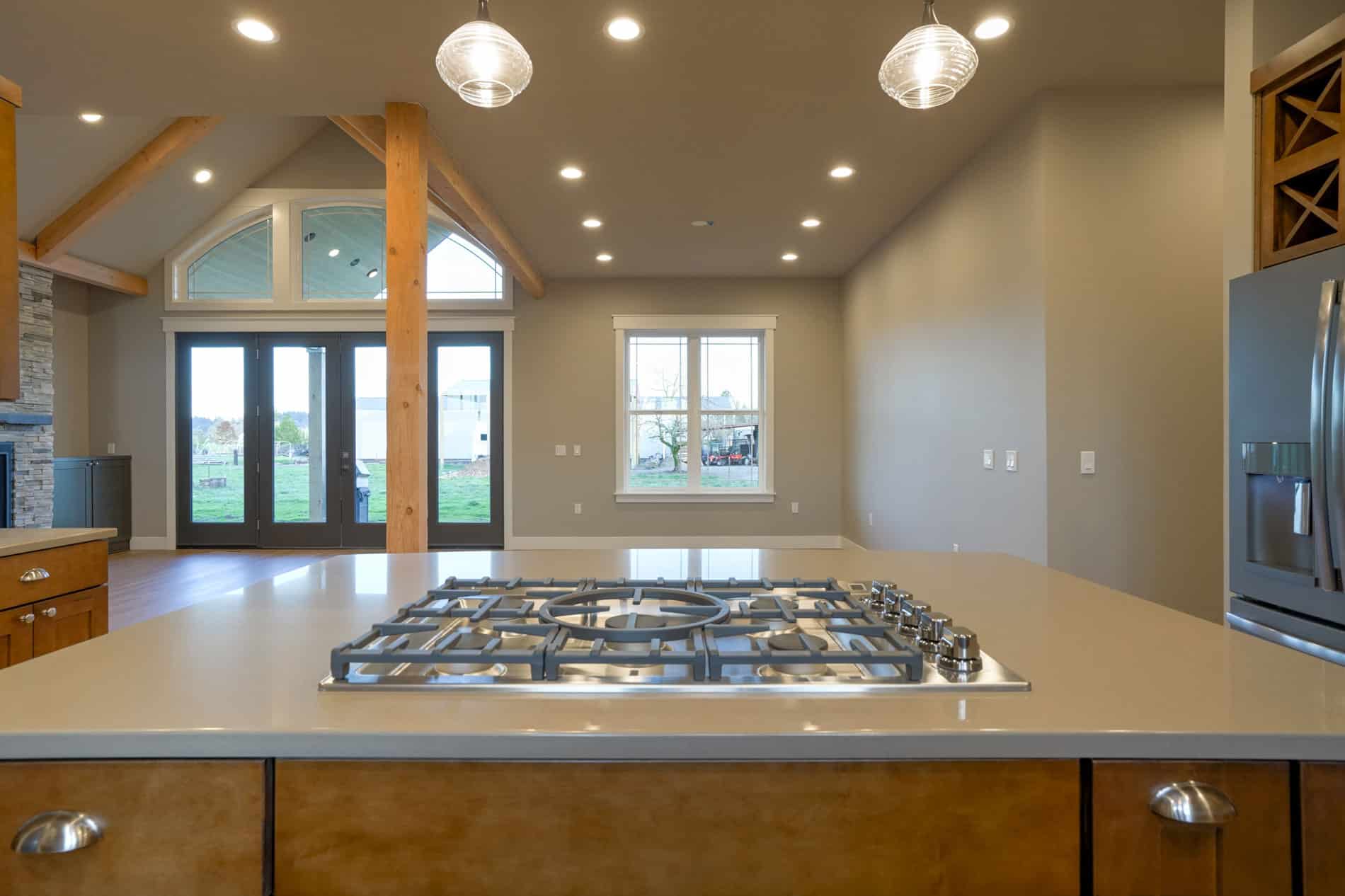 Working with Top Form means…
Years of Experience
25 years in the business
Top Form Contracting is a family owned and operated business. The owner, Gabe Miller, has worked in construction for a quarter of a century. He draws on a deep well of knowledge to provide you with the best experience possible.

Attention to Detail
We take care to get everything just right
When Top Form Contracting is on your team, you have the comfort of knowing that we will take care of every detail. From accurate bidding to keeping a clean worksite, our team makes sure every aspect of your project is picture-perfect.

Precision Estimates
Stay on budget with Top Form Contracting
No one wants to go through change order after change order during construction. We provide accurate numbers, so you don't have to worry about going over budget. Our detailed bids prevent time and cost overruns.